I'm writing this article on the eve of the International Day of Peace and immediately after the recent Sustainable Development Goals (SDG) summit, held on 18 and 19 September, which was part of and kicked off the 78th session of the United Nations General Assembly, held in New York, USA, with dozens of heads of state and government from around the world.
At this summit, António Guterres called for the mobilisation and commitment of world leaders, warning that "the SDGs need a global rescue plan", that "only 15% of the SDG targets are on track to be achieved by 2030 and that there is even a regression in some of the goals". The UN Secretary-General also called for "an end to the triple planetary crisis: climate change, pollution and biodiversity loss." (Source: Diário Económico, 19 September).
Nowhere in the news do I see Peace mentioned, but all the themes are related to it, to the increasing fragility in which it is sustained and to the growing tension that is shaking different places and communities all over the world in the face of the challenges we are facing and the accumulated fatigue.
But what is peace anyway? Who does defined, consensualised peace serve?
As always, we'll be looking at different perspectives on peace. In this article we don't have space to explore the roots of peace in the social cosmologies of East and West, or to digress into the so-called "imperfect peace", which emphasises the always unfinished nature of moments of peace, and which configures it not as an altar of splendour, "but as an alternative that is being built from plural combats against violence in view of lasting, just, peaceful and… imperfect social relations." (Professor José Manuel Pureza in "Theoretical Constructions of Peace").
Peace-building narratives are still laden with "combat", demonstrating how the collective psyche is populated by dual, mechanistic and warlike thinking.
It wasn't always like this. In fact, the circle, which continues to be applied today in the context of group facilitation, is based on the practices of indigenous peoples from different parts of the world. "Gathering in a circle to discuss important community issues is part of the tribal roots of most peoples." (Kay Pranis, Circular Peacebuilding Processes).
"The point is precisely this: not all of us can prosper and/or enjoy fundamental freedoms"
So when we get the view that it's the West that brings the democratic values of peacebuilding, it's not real. In fact, there has been an appropriation (and misrepresentation) of a series of values, practices and knowledge that are originally from other peoples. The International Day of Peace is celebrated annually on 21 September. This day was established in 1981 and proclaimed in Resolution 55/282 adopted by the UN General Assembly on 28 September 2001.
Eurocid says: "it is a day dedicated to strengthening the ideals of peace by observing 24 hours of non-violence and ceasefires around the world".
This year's theme is "Actions for Peace: Our ambition for the Global Goals. It is a call to action that recognises individual and collective responsibility to promote peace."
UNESCO says: "The International Day of Peace celebrates the power of global solidarity to build a peaceful and sustainable world." And also: "… the barriers to peace are complex and steep – no country can solve them alone, as this requires new forms of solidarity and joint action…", to which Audrey Azoulay, Director-General of UNESCO signs off: "being responsible for peace means taking action to overcome the failures and injustices that continue to prevent us from achieving an egalitarian world. Because a planet corroded by division is a planet that does not know peace."
It's worth remembering a quote from the UN that, although not from this year, is crucial: "Peace is synonymous with resilient and stable societies, where everyone can thrive and enjoy their fundamental freedoms, rather than having to fight for their basic needs."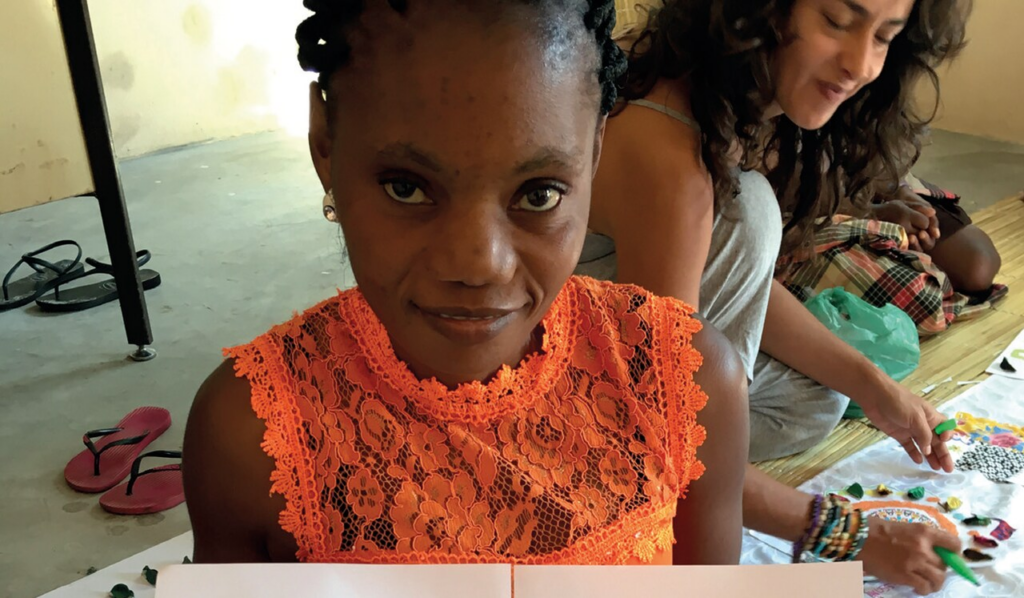 This is precisely the point: not everyone can prosper and/or enjoy fundamental freedoms. The inequality and injustice that have always pervaded us are moulded to the contextual and temporal contours, but what underlies them is transversal and timeless: the illusion of separation and domination (of each other and over each other), and this includes Humans, Non-Humans and More Than Humans.
And an unbiased and amplified look at the world through different lenses (not just the commonly accepted "official" ones) allows us to see that even the democratic values of equality, justice, peace and development don't serve everyone – in fact, they serve very few, and at the expense of many.
This may seem like an exaggeration. But a qualitative look at the vast territories and their populations – multiple and quantified – gives us back the proper proportion (and humility) in the globe and in the complex and vast web of life.
The example of GDP or per capita income, as factors for measuring the growth of the economy, doesn't suit everyone. At whose expense and for whose benefit has this "growth" taken place? Who does this growth serve? Who has it robbed of dignity, peace and life?
We are now living through an energy transition, undermined by a "green" discourse that is biased, pernicious and, most seriously, supported by governments, investors and representatives who should be safeguarding the protection of a legacy that is common and that cannot be appropriated, exploited and destroyed for the sake of economic, political and geostrategic interests that are far from serving the common good and life.
In fact, rethinking and transforming economies is a fundamental issue that impacts peace and the level of resilience and stability of societies. Governments, investors and civil society, duly represented, must share responsibility for how the decisions they make impact on the food, education, health, security and welfare systems. Anything that perpetuates an economy based on fossil fuels and colonial relations – of domination, of power imbalance – jeopardises peace, vitality and the continuity of our greatest legacy: life!
In this regard, I must quote a reflection recently shared by the author who inspired my last article: Bayo Akomolafe: "Colonisation is not so much the extraction of wealth from a land subjugated to the conqueror, as the shrinking of experience to fit the conqueror's frames of perspective; it is the imposition of a single way of knowing, a single regime of observation (noticing), a single apparatus for the production of meaning, so that what is really lost is not gold, corn and men as such, but the ways of making sense of the vibrant vitality (vivacity) that surrounds us. What is really lost – in a world increasingly convinced that the only way to measure true wealth is through digits, scarred landscapes, felled trees and rising artificial horizons – is the freedom to think differently. It's also not just about the fact that colonial practices have taken our culture away from us, but that they have imposed a static authenticity on us, forcing us to conform to an image of what a true indigenous person looks or sounds like – and, in effect, denying us the right to step away from our own algorithms.
Decolonising ourselves should therefore not be done by trying to return to a pure image of what it means to be indigenous (an image that may no longer be true), or by trying to erase the lasting marks on our bodies that have been made by colonial incursions and new affinities, but by freely straying and generously losing our way – befriending the places that sustain us and going with the disruptive flow of the worlding practices that connect us to those who violated us."
This last statement by the author can be difficult for rational and/or traditional thinking to digest. However, Bayo, who positions himself as a post-activist and draws attention to how our obsessive search for resolution and "healing" is itself responsible for the "problem", considers that "there are times when hope and optimism can become an obstacle to flourishing. Pain and mourning are in themselves an activism, an invitation to create new forms of art and to be 'stretched' (prepared) for new forms and new ways of being." And for me, who sees violated Beings in a deep relationship and friendship with the places that sustain (and imprison) them, and who sees how pain, mourning (and scars) and joy (and vivacity) are not incompatible, this sentence speaks volumes to me.
The normalisation of violence, extraction (of land and bodies), poverty, instability, conflicts and crises is not new, it goes back to colonialism. We will all perpetuate it as long as we continue to live in a domineering and manipulative way.
While it is true that subsidiarity is increasingly being advocated – bringing decision-making down to the most immediate local level – we are witnessing a continuous wave of "wordling practices" that are still not co-participated in by crucial voices. While it is true that there needs to be global dialogue and consultation to tackle complex, cross-cutting challenges, it is often difficult to look at the local through the lens of global objectives. To see how the South continues to follow in the footsteps of the North. How we continue to focus on objectives, projects and practices rather than places.
And Peace always begins in Place. On the ground, in the body. In the family, at home, at school, in the vitality, in the harmony, in the salutogenesis of the organism, of the community, of the place.
"Peace cannot be found by avoiding life" (Virginia Woolf), which is what many of us do in our protected bubbles, exiling voices, dark and muddy parts, tension, chaos, emptiness, which are part of the entropy-syntropy cyclicity, of the life-death-life continuum.
I can't help but bring up a recent quote from Nobel Peace Prize winner Muhammad Yunus: "if we want to change things, we have to go back to education", and from Professor Helena Marujo – UNESCO Chair in Education for Sustainable Global Peace: "we need to renew a dimension of citizenship for the contribution to the common good (…) for a look that is not that of competitiveness or personal well-being (…) to inspire and touch, not only from the point of view of scientific knowledge, which is obviously fundamental in the educational process, but with regard to the construction of the Human Being – what people do we need to have in life, for each context, culture, historical moment? "
I'll end with a statement from the book "Education for Sustainable Global Peace", co-authored by this Professor with Hermano Carmo and Fernando Serra, which I can relate to: "Peace will only be preserved through ways of living together that nurture participatory, inclusive, fair, sustainable and dignified processes for all living beings and the planet, in the best common interest."
And it is in a circle, in a participatory democracy, based on the horizontality of relationships, valuing individual potential and the strength of the community, that peace is built and nurtured on a daily basis.