Graphite grabbed recent news headlines when China announced it will require export permits for some graphite products. China is the world's top graphite producer and exporter and it refines more than 90% of the world's graphite into the material that is used in virtually all EV battery anodes. The graphite curbs are intensifying efforts among miners outside China to bring graphite projects to fruition.
The West's dependency on Chinese supply has seen graphite recently added to the US Department of Energy's list of critical raw materials. According to a Benchmark Mineral Intelligence analysis, this year lithium-ion batteries will overtake the steel industry as the number one source of demand for graphite.
In a snapshot of the world's future supply, Mining Intelligence data provides a ranking of the largest projects, based on reported production in million tonnes of contained graphite.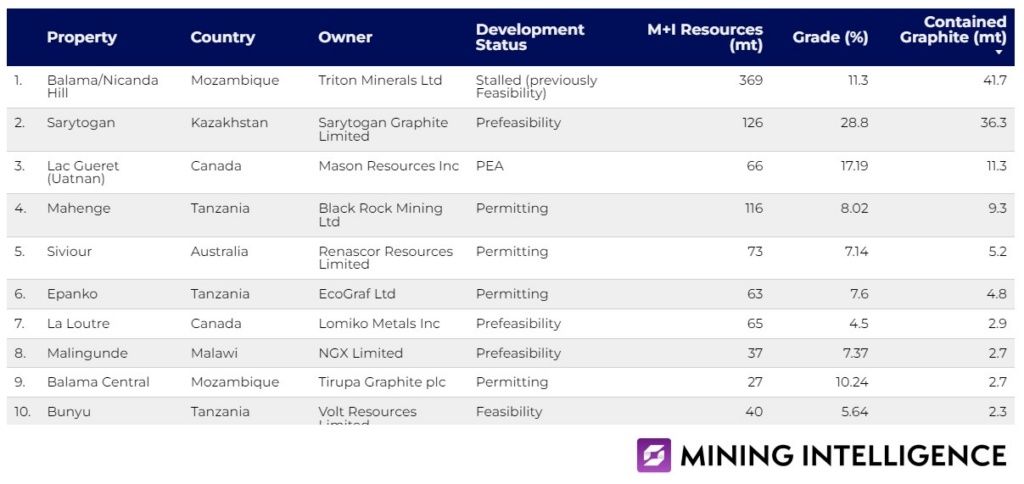 1 Balama North/Nicanda Hill
Development status: Stalled in feasibility
Triton Minerals' Balama/Nicanda Hill in Mozambique takes the top spot with 41.7 million tonnes (mt) of contained graphite. The project is in the Cabo Delgado region of Northern Mozambique, the same province as Syrah Resources' Balama mine, which is the world's largest graphite producing facility. The project is currently stalled and the Cabo Delgado province has seen unrest due to Islamic extremist insurgency.
2 Sarytogan
Development status: Prefeasibility
In second place is Sarytogan Graphite Limited's flagship project with 36.3 mt of contained graphite in the Karaganda province of Central Kazakhstan, which is progressing though a pre-feasibility study.
3 Lac Gueret
Development status: Preliminary Economic Assessment
Mason Recources' Lac Gueret project in northeastern Quebec is in third place with 11.3 mt of contained graphite. Lac Gueret is undergoing a preliminary economic assessment, and Mason and Nouveau Monde Graphite have entered into an option and joint venture agreement to collaborate to advance the project.
4 Mahenge
Development status: Permitting
In fourth place is Blackrock Mining's Mahenge project in Tanzania with 9.3 mt of contained graphite.
The Mahenge project is spread across 324 square kilometres of exploration tenements in Tanzania's Ulanga district, approximately 250 km north of the border with Mozambique.
5 Siviour
Development status: Permitting
The Siviour project, owned by Renascor Resources, is in fifth place with 5.2 mt of contained graphite. The Siviour graphite project is located 15 kilometres from Arno Bay on South Australia's Eyre Peninsula.
6 Epanko
Development status: Permitting
The Epanko graphite project in Tanzania takes the sixth spot with 4.8 mt of contained graphite. Owner Ecograf Ltd in April signed a framework agreement with the Tanzanian Government for the Epanko project, which will provide supply diversity and scale-up optionality.
7 La Loutre
Development status: Prefeasibility
Lomiko Metals' La Loutre project in Quebec is in seventh place with 2.9 mt contained graphite. The most concentrated supply of natural flake graphite projects is found in the Grenville geological Province of Quebec — and Lomiko's La Loutre project is at the centre.
8 Malingunde
Development status: Prefeasibility
NGX Limited's Malingunde project in Malawi is in eighth place with 2.733 mt of contained graphite.
9 Balama Central
Development status: Permitting
Nearly neck and neck with Malingunde, Tirupa Graphite's Balama Central project in Mozambique is next with 2.732 mt. Flake graphite from Balama Central is of fine grade and used as feedstock for the graphite anode market.
10 Bunyu
Development status: Feasibility
Rounding out our list is Volt Resources' Bunyu project in Tanzania with 2.3 mt of contained graphite. The project is 140km from the deep-water port of Mtwara in the East African country.
Mining.com